Tim povodom reagovao je na svom Facebook profilu umjetnik, muzičar i vlasnik kluba Jazzbina Tarik Karačić i opisao šta se sinoć dešavalo tokom inspekcijsko-policijskog prepada, ne krijući muku i ogorčenje...

Nakon što je direktor Federalne uprave za inspekcijske poslove Anis Ajdinović prije dva dana, a povodom proglašenja stanja epidemije u Kantonu Sarajevo i Tuzlanskom kantonu te donošenja novih mjera od strane Kriznog štaba FBiH, pozvao inspektore na mnogo represivnije djelovanje i kažnjavanje "neposlušnih", akcije su se odmah i dogodile.

Na meti se, između brojnih drugih objekata, našao i popularni sarajevski klub Jazzbina, u centru grada, koji je tek počeo sa radom nakon što je prethodno dva i po mjeseca bio zatvoren. Haos je nastao tik iza ponoći... Prema tvrdnjama svjedoka, odnosno gostiju koji su se u tom trenutku nalazili u i ispred kluba, bila je to prava opsada kafane. Unutra su ušla dva inspektora i desetak policajaca, dok je vani ostalo još dvadesetak pripadnika MUP-a KS, tako da je više bilo inspektora i policije nego gostiju!

Tim povodom reagovao je na svom Facebook profilu umjetnik, muzičar i vlasnik ovog kluba Tarik Karačić, koji je opisao šta se sinoć dešavalo tokom inspekcijsko-policijskog prepada, ne krijući muku i ogorčenje...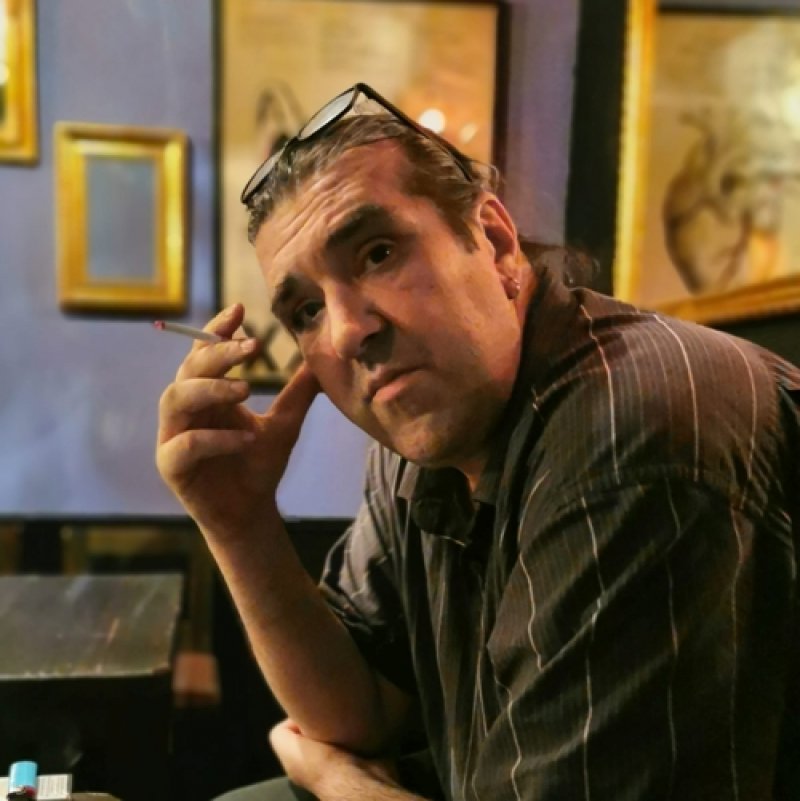 Post prenosimo u cijelosti:

KO PREŽIVI JUNI, JULI SIGURNO NEĆE!

Sinoć su na 36 ljudi u Jazzbini (gosti, bend, uposleni - sve zajedno nas 36), ušla dva inspektora i 10 policajaca, 9 minuta poslije ponoći.

Inspektorica stoji 10 cm udaljena od mene, povremeno se dodirnemo laktovima jer joj dajem svu potrebnu dokumentaciju i piše mi kaznu za distancu. Pa ima li to igdje na svijetu? Policajac do mene se smije, ne može ni on da vjeruje, a šta će, radi svoj posao. Kaže mi na kvadraturu Jazzbine može sjediti 7 do 15 ljudi.

Moram reći da su inspektor i policija bili jako ljubazni, nezgodno im, a štaš... poslalo ih iz klana crvenobradih zeleno-zastavaša, dok je sanitarna inspektorica, zadužena za distancu koju ni sama ne poštuje, došla da se dokaže.

Pa kako nastaviti raditi, platiti vodu, smeće (slali su račune i za vrijeme pandemije - voda i smeće isti račun kao za januar), struju, kiriju, plate uposlenima, PDV i poreze od kojih ista ta policija i inspektori dobijaju platu?!

Šta će, poslao ih iz kriznog štaba crvenobradi diktator i svemogući gospodar naših bjednih života.

Dragi moji političari, da nije pandemije ne bi ste ni naučili šta je lična higijena, govna smrdljiva, pogana. Dokle više, dokle ćete više cijediti sav ovaj narod... Malo vam što ste se naklepali od respiratora i raznih javnih nabavki. Malo vam kredita od MMF-a, para koje će vraćati naši unuci. Malo vam što su vam matere kukale u sred rata "Ostavite mom sinu jednu vreću", malo vam plate od po pet-deset hiljada, a dva puta za 18 mjeseci ste sjeli nešto da uradite i ni tada niste ništa uradili, fukaro nesposobna. Bagro jedna bezobrazna i nezasita, prestanite više da nas mrcvarite.

FUJ, FUJ, FUJ...

Jazzbina Sarajevo, moji partneri i saradnici i ja smo napravili više kulturnog programa za tri godine nego vi od 1996. do danas, što će vam pokazati i ovaj nepotpuni spisak svih umjetnika (izvinjavam se svim umjetnicima koje nisam naveo) koji su nastupili u Jazzbini.

Bojan & Ćiza
Puštač muzike/M'choo
Benko
DJ Dany / Queen of Rock
AMNA
Aida Mušanović Arsić & SJG
Marija Šestić & All Star Band / Marija Šestić & SJG
Nikolina Vujić & SJG / Nikolina Vujić Quartet
Narcis Zečić & SJG
DJ Edmundo Dantes
Amnna & Ammar
Maikel Gomez (Cuban Night)
Sara Renar
Rambo Amadues
Sana Garić
Vladimir Samardžić (workshop-bass)
Ilhan Hajdarpašić
Dr. Brown Sugar
DJEČKO
Burephonia / Ahmed Burić
DJ Flying Bird - Enga
Filip Šovagović i Fadil Abdulov
Merima & Haris
Lidija Paulin & Saša Ćirić – two vocals, guitar & cello
DJ St. Jacques
Iva Farrah Durawi – Merlinka Festival
DJ Jovijah
Aklea Neon
Simon / evergreen night
Uncle Sen (Jim Morrison tribute)
Sarajevo Blues Bang
Lopov Jack
La Grange (ZZ Top tribute)
Average (Punk-rock band Italy)
Acoustic Electric
The Flat Five
Bojan Dizdarević Trio
MESH Band
Kaktus Band
BluesA
The Lovers
Please The Trees (psycho/post rock indie)
PNA
Maystorsy
Vertikalno Gledano
Samir Fejzić Trio
bRend
Sarajevo Jazz Guerrilla
Mezanin
Trese.Lupa.Udara
The String Stranglers
She's Breeze / Acoustic Breeze
No Rules
Starbridge
Nebuloza Band
The Blackdoor
Undergrounderi / Vis Undergrounderi / Filter Jugoslavija
Ivkine Mirođije
Počeni Škafi
Napoleon
Crveni Karton
Yukazu
Vasil Hadžimanov Band
Sirtango
Pepersi
Darko Poljak Quartet
KHARA
Crystal & Band
Square Waltz
Piknik Park
DŽA ILI BU
Pips, Chips & Videoclips
Skroz
Zoster
Atheist Rap
Let 3
The Underground Youth
Foxy Head
Obrada Metala (Tribute to Metallica)
The Toasters
Konvoj
Norma Jean
The Blues Train
Mars Red Sky
Anchy & The Moondogs
KZU Ole Ole & PZU Oje Oje
ABBA Real Tribute Band
Pochko & New Primitives
Miron Rafajlović quintet
Manouche ROUGE
Exit By Form
Sunday Stories
Čizma sa prijateljima / Bolero
Gimpels
Love Hunters
AutorYno
Rain Dogs (Tom Waits Tribute Band)
Cacafuego
Diving Hill
Fish in Oil
Kusimanten
DisciplinAKitchme
Škodra & Kolt Teatar
Still Crazy
Norman Beaker trio
TRY! (John Mayer tribute band)
Josip A Lisac (JAL)
Nikola Čubrilo Band
Kanda, Kodža i Nebojša
Nervni Slom
Weltschmerz
Boundary
Obojeni Program
Hippy Neighbors
Repetitor
Protest
Liminalit
Poruka u Boci
Lutke na Koncu
E-Play
Country Circus
Karne
Ajla & Gonzo
Blue Hotel
Helado Infinito
Fanfare Les ZaŽous
The Gamblers
Kablovi
M.O.R.T.
Punkreas
Ammara Mistrić Trio
Bundes Jazz Orchestra ( BuJazzO)
Duvački kvartet za rog Friuli Venezia Giulija
Kristofor
Das ist Walter
Moca i Biznismeni
Feel – tribute to Robbie Williams
Jufkamental
Funkcioneri
Fabrika 071
Box
Aleksandra Kutrzepa Quartet

Izvinjavam se u ime našeg skromnog kolektiva svim gostima koji su morali prisustvovati sinoćnjem teroru.

"KO PREŽIVI JUNI, JULI SIGURNO NEĆE" - poručio je još jednom i na kraju svog posta Tarik Karačić.

Inače, nakon sinoćnje ispekcijske kontrole, a povodom svega što se dešava i što se dešavalo prethodnih mjeseci kada je u pitanju odnos nadležnih upravnih organa prema kafanama i drugim ugostiteljskim objektima u Sarajevu, svi navedeni bendovi, muzičari, gosti i simpatizeri svega onoga što i kako radi Jazzbina Sarajevo, stali su iza ovog kluba i njihovih vlasnika, te im dali punu podršku.
(DEPO PORTAL/BLIN MAGAZIN/ad)
Depo.ba pratite putem društvenih mreža Twitter i Facebook