Alfons Rodriguez, proslavljeni španski fotograf, predstavit će svoje fotografije u galeriji BlackBOX, Vrazova 5, Sarajevo. Otvorenje će biti upriličeno 17.01.2012., utorak, sa početkom u 20h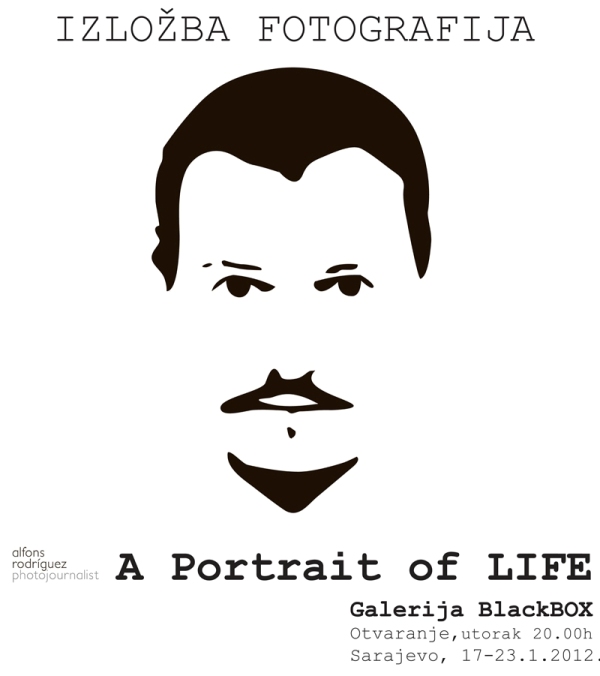 Izložba je u sklopu programa "Fotografija godine BiH" za 2011. godinu, koji organizuje portal "Fotografija.ba".

Vodič kroz program možete vidjeti na ovom linku http://fotografija.ba/2012/01/vodic-kroz-program-%E2%80%9Efotografija-godine-bih-2011%E2%80%9C/

Alfons Rodríquez (Barcelona, Španija) je free lance fotograf sa petnaestogodišnjim iskustvom, koji najviše voli dokumentarnu fotografiju sa akcentom na socijalnu angažiranost i antropologiju.

Za sebe kaže da mu je putovanje stil života, što potvrđuju i projekti na kojima je učestvovao kao član međunarodnih ekspedicija (Irak, Sjeverna Koreja, Indija itd.).

Fotografiju je studirao na uglednom univerzitetu IDEP u Barceloni.
Dobitnik je mnogobrojnih nagrada od kojih posebno ističe "Godó Award of Photournalism", najprestižniju fotografsku nagradu u Španiji.

Autor je i tri knjige: "Walata and Tichitt, heart and soul of the mauritanian desert", "Congo The Neverending War" i "Figuig, Memories of an Oasis". Kao fotoreporter sarađivao je sa magazinima poput: National Geographic Magazine (Španija, Italija i Portugal), Der Spiegel, La Reppublica, Geo, Traveler, 7 Leguas, Altaïr, The Courrier, La Vie, The Moments Count Journal, Storica National Geographic, El Mundo, El País i El Periódico.
Više informacija o Alfonsu Rodriguezu možete naći na ovom linku http://www.armphoto.com/
(DEPO/BLIN/em)